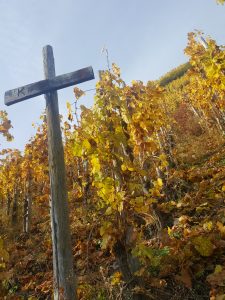 In this photo: Calmon vineyard in Bremm
Tarnished,
Inscrutable,
Misunderstood:
Riesling!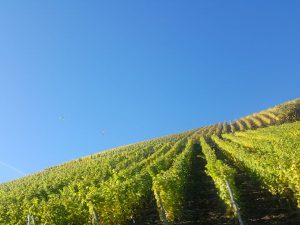 Before going you should learn the best Vineyards names.
When you finally are on the  Mosel-Saar soil, you will feel lost again.
Let yourself get lost, anyway.
Mosel-Saar will introduce to you one of the best place in the world. The best for Riesling grapes.
Having said that:
Remember the different wines available:
Tba has from 150 to 154 ° Oe, 250 g/l rest sugar and 5.5% alcool content,
Trocken  has  9 g/l rest sugar
Feinherb 10-20 (unufficial mention to say medium dry)
Or
Halbtrocken 9-18 (medium dry)
In between:
Spaetlese  70-90 g/l
Auslese 90-130 g/l
Berenauslese 200 g/l
Every wine producer tends to prefer the Feinherbe as the best Mosel expression probably for their own taste.
We can also say that the balance between rest sugar, acidity and alcool content, give a good result.
Riesling is so sharp that in their first years of life is so hard to effort at the tasting.
Lovely only for a few people, the rest od the world meet pleasure with the sweeter taste.
Don't be afraid to store it in your cellar  forgetting for years, minimum 5, and the value  of that "thiny" wine will surprise you.
Apple scent, strong Minerality at the beginning, after some years will became fresh mint scent and so desidered petrol scents that could depend, as much as the sun has burned the skin of the grapes.

In Saar we have been looking for :
Van Volxem http://vanvolxem.com/en/
Egon Muller
Peter Lauer http://lauer-ayl.de/en/weingut/
Peter produces very elegant and refined wines, as expression of Saar .
Differently, Mosel wines are more honey and richer wines.
In Mosel, in Bernkastel and Punderich, we have been looking for:
Dr.Loosen http://www.drloosen.de/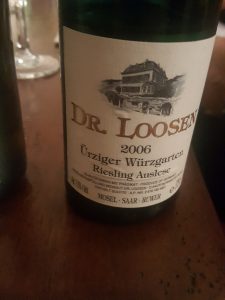 ---
Selbach http://www.selbach-oster.de/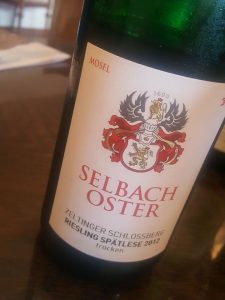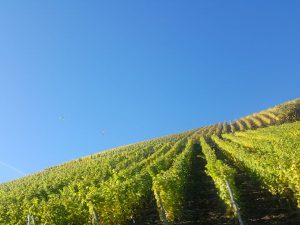 Clemens Busch  http://www.clemens-busch.de/
And we met
Jorg Weirich aat his Ferienhaus
Their wines are at first available on the Weingut  in Bernkastel-Andel or on website www.mosel-wein-ferienhaus.de via Telephone or Email. Further some of the wines available at Sammys Weinbar in Bernkastel-Kues.