Cosimo Maria's Wines  are so perfectly clear.
As a Subtendes message the wine explain the method and the work that the producer used to  do looking for the Moon phases during the  month.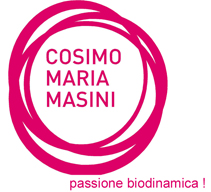 Particularly appreciated, FEDARDO DOC Vinsanto del Chianti from Malvasia Bianca and Trebbiano grapes and vines 40 years old.
The Wine  is "Made by hand", the grape handly harvested and dried for 4 month along the winter period.
The wine is fermented and aged in small barrel long lasting 7 years.
No filtration and no clarification let the wine being plenty with a longtasting in the mouth.
Essential taste, the best because is made consciously for a Mindul drinking.
The other wines appreciated during the Fornovo Exposition
http://www.vinidivignaioli.com/
are:
Daphné
IGT BIANCO TOSCANO, Trebbiano and Malvasia Grapes
Aged in Barriques and Tonneaux of 2nd and 3rd passage
No fining filtration.
Impressive succulent taste
Cosimo
IGT ROSSO TOSCANO, Sangiovese and native grape as Sanforte also named Sangiovese Forte, Buonamico, Canaiolo and Malvasia Nera.
http://www.ampelis.it/Sanforte.pdf