I'm lonely in a group of men toonight.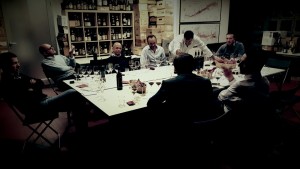 In fact, the Soldera's wines are soo expensive that it is difficult to effort a tasting like this.
Rosso di Montalcino 1976
Intistieti 1985
Brunello 1983
Brunello 1988
Brunello Riserva 1997
Brunello Riserva 2001
Brunello Riserva 2006
the years on tasting, on October 2015, 5th
at WineTip Head Quarter, in Milan.
Wine tip, the most well trained distributor on important italian and international wines in Milan has sold out the Soldera event.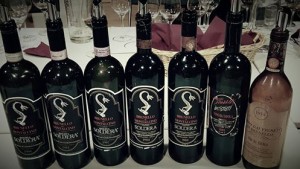 I knew  Sir Soldera, the advocate,  more or less 6 years ago. I was young, ingenue and unprepared to meet a man like that, so you can imagine it has been a transcendental experience. Nothing has been the same, from that moment.
He likes being unpleasant but he didn't realize that I didn't care about that.
The result was that he offered the lunch to me and my husband that prophetic day.
In that period, I was working in a wineshop and I was being purpose every day his wine.
I'd like to know more about that  man and his vineyard, so I gained an appointment to his Case Basse in Toscana. The rest is history.
2006
it had a bright ruby color with granate sparks and spicy scents
2001
a sweeter nose, mushrooms and brushwood nose
Riserva 1997
Correctly made as the 1997 harvest required. Evident salty finish in the mouth
1988
deeper color and coffe notes
Super dry mouth
1983
Deeper and deeper in color.
The nose gives tamarind, candied onions and medical herbs scents
1985 Intistieti
Lost
1976 Rosso di Montalcino
Brown jade color, may I say:  Beautiful!?
Goudron, coffee, cipress eternal scents at the nose
THE BEST!  I 've dedicated that wine to my Brother: Andrea.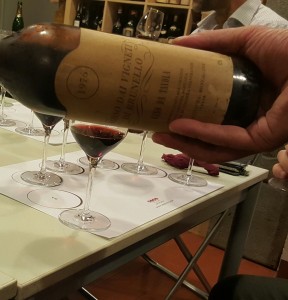 1976 was his birth