Nascosto, svelato
Hidden, discovered.
The parfum.
"Inhebreathing", exciting, powerful, essential, Gourmand.
Parfums bring you in the world you love.
Your world is your parfum.
All  you want is around you.
Your family, your Friend, your Lover
Slightly Linked to wine world and the olfactive "parterre".
"Fragranze" in Florence, the country of Caterina De Medici gloves .
Three days of Parfums by Pitti #pittifragranze
Let the world know your scent.
And We have met:
Antonio Alessandria with His New
EPERDUMENT
Orange, fennel and salty notes of a love and the place that have seen that love once.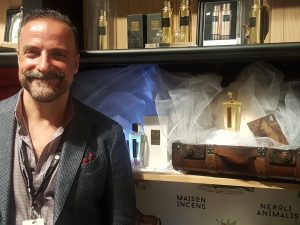 "My fragrances are stories of my life,
my imagination
and my secrets."  Antonio Alessandria
http://www.antonioalessandria.it/
Simone Cosac
She has created the parfum dedicated to the mysterious loves, Born in the shade of an italian garden, the parfum speaks about love between Bianca Cappello and Francesco De Medici.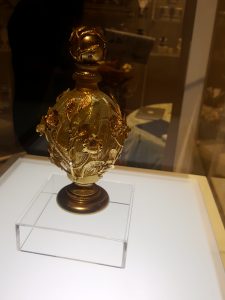 Rania J.
And here CUIR ANDALO introduced at Fragranze.
Leader, saffron, Neroli, Rose, Violet? Orris, Castoreum, Vetiver, Sandalwood, Oud and Patchouli.
http://www.raniaj.com/
We have also understood how to extract fragranges from the original plant of Patchouli and fully explained during the conference RAW #raw by MANE, Micaela Giamberti, Cyril Gallardo (Ingredient Director Emea, MANE, Veronique Nyberg  (Vice President Ginevra Fragrance Emma, MANE) #mane
MOLINARD
www.aquacosmetics.com
http://www.molinard.com/en/
in Paris and in Grasse
Violet
&
Figue
The last two parfums edited for the launch in  Florence.
Producer and creator of their own Parfums in Grasse, France.
LAURENT MAZZONE
http://lmparfums.com/
creator of "Kingdom of Dreams" with notes of pepper, nutmeg, intense Yemenfor the Head notes
Cedar Marocco, vetiver Haiti, patchouli as heart notes
And amber and muscs for the base notes that reminds candles church.
(Main photo of the article)
ORIZA
Maison fondee in 1720 in Paris
Golden label
http://www.orizaparfums.com/
In 1889 at the "universale exposition"
If you want understand what is the history of a parfum Connecting to the Kingdom world in France of '700.
and …
The Sexiest Scent on the Planet, Ever. (IHMO) – lemon meringue pie, sponge cake and velvety woods. Really
http://www.4160tuesdays.com/4160tuesdaysscentshop/prod_3387055-50-ml-Eau-de-Parfum.html
Parfums are what you are and what you have around. The time, your space.
Very similar attitude to whom loves wines.
You could not see their compositions. You can just discovered it.
Like the wine you choose to complete and experienced full emotional life.
And at the end, people want to be, linked and giving  our own concept of our own life.
Be part of that and believing to the story you are telling.
Here the link dedicate to an emotional experienced evening between parfums and liquors that took place in Milan to the wineroom #bicerin
With esxence #esxence in 2015, in autumn
"LA PART DES ANGES"
2015 Novembre, 22th
http://www.fisarmilanoduomo.it/la-part-des-anges-profumi-e-distillati-dautore/